No Survivors: Eight Bodies Recovered From Wreckage Of U.S. Helicopter In Nepal
According to a statement given to the Associated Press, U.S. military and Nepali personnel are at the crash site near the mountain village of Kalinchok.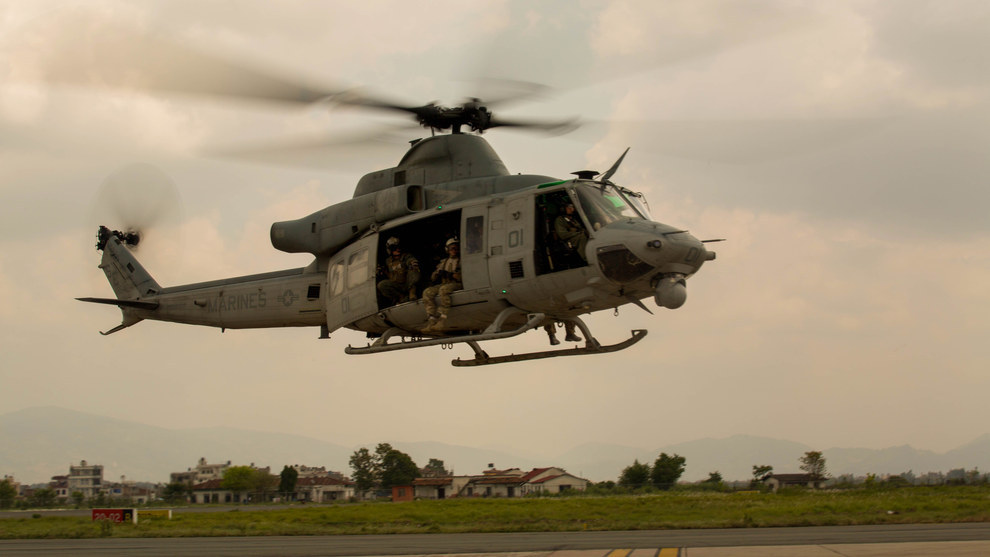 The chopper, which was part of the Marine Light Attack Helicopter squadron based at Camp Pendleton, California, was carrying six U.S. Marines and two Nepali soldiers when it crashed.
It was said to have been last seen in the mountainous region after another helicopter in the area picked up radio chatter about a fuel problem.
There were six U.S. marines and two Nepali soldiers on board.
The families of two marines told media outlets on Friday that they were informed by the Marines that their sons were on board the missing helicopter.
Capt. Chris Norgren, a 31-year-old Wichita native, was reportedly the pilot of the helicopter, his father, Ron Norgren, told The Wichita Eagle. Ron Norgren said that Marine Corps representatives informed him on Tuesday that his son was missing. He said Chris sent his mother flowers for Mother's Day while he was in Nepal.
"I told him I was very proud of him, that he's over in Nepal helping people out and that he still remembered Mother's Day," Ron told The Wichita Eagle. "He texted me back and thanked me for the compliment, and that was about it."
The family of Marine Lance Cpl. Jacob "Jake" Hug of Phoenix told AZCentral.com that their son was part of the crew on the missing helicopter. They said that the Marines have been in touch with them since the craft disappeared in Nepal.
Hug turned 22 on May 6 while he was on temporary assignment in Nepal. His father, Jim Hug, told AZCentral.com that the helicopter reported an issue with the fuel line before it disappeared.